True Edit Order Manager Extension for Magento®
by CreativeMinds
The True Edit Order Manager Extension is the perfect Magento® order management solution for editing an existing order without creating a new one. Available for Magento® 1 &  2
Magento True Edit Order Manager Highlights
True Edit Order Manager Extension for Magento lets you quickly edit order information in your Magento store. With this extension you can modify orders without the need to duplicate or cancel orders and create a new one for each change. Use this order management extension to edit order status, shipping & payment methods, add or remove products, and add order notes directly within an existing order.
Better Magento Order Processing
Easily manage order information
Edit Orders Without Canceling
Make changes on existing orders or duplicate orders
Order Archive
Adds the ability to archive and restore orders
Order Manager
Minimizes admin errors
Magento Order Editing Extension Features
No Duplicate Orders
Eliminates duplicate orders upon editing, reducing issues between Magento, CSRs, fulfillment systems, credit card processing, accounting, and the potential for costly errors.
Edit Order Items
Remove items, update quantities, change prices and alter the tax class for any item in an order, or add a new item altogether.
Quick Edit Existing Orders
Quickly edit existing order information (like billing and shipping, item quantity) directly from the order details page to streamline your order processing and order management system.
Add Order Notes
Automatically creates an order note annotating changes made, user, date and time stamp, and allows for additional comments.
Edit Order Status
Edit custom order status while editing an order.
Recalculate Shipping
Shipping can be recalculated during order edit. The extension will show a list of newly calculated costs for each shipping method.
Configurable Products Compatibility
Select item options from a dropdown menu when adding configurable items to an existing order via the Magento Order Editor.
Delete Orders
Permanently delete order from database.
Archive Orders
Archive orders in bulk from the sales order grid or in a separate grid page, and automaticly archive orders based on date or status.
Duplicate Orders
Duplicate existing orders with a single click.
Edit Order Notes
Enhanced ability to edit order comments.
User PERmissions
Allow or deny the ability to edit orders based on user role.
Magento Order Editing
Before and After
Magento Order Editing – Video
Quickly edit the most relevant Magento order information from the order screen and save time.
Which option works best for you?
Magento 1
Comunity Edition
Magento 2
Comunity Edition
Magento 1
Enterprise Edition
Magento 2
Enterprise Edition
1 Year support +
30 Day Money Back Guarantee
We stand behind our product 100% – See our Refund Policy
Magento Order Editing Manager FAQ
How do you add a custom product to an existing order?
In the admin panel in the navigation bar go to "Sales" → "Orders". Select an order. Scroll down to items ordered. Below the items ordered box is a tool that can be used to add additional products to an order.
To learn more about this feature check out this Help article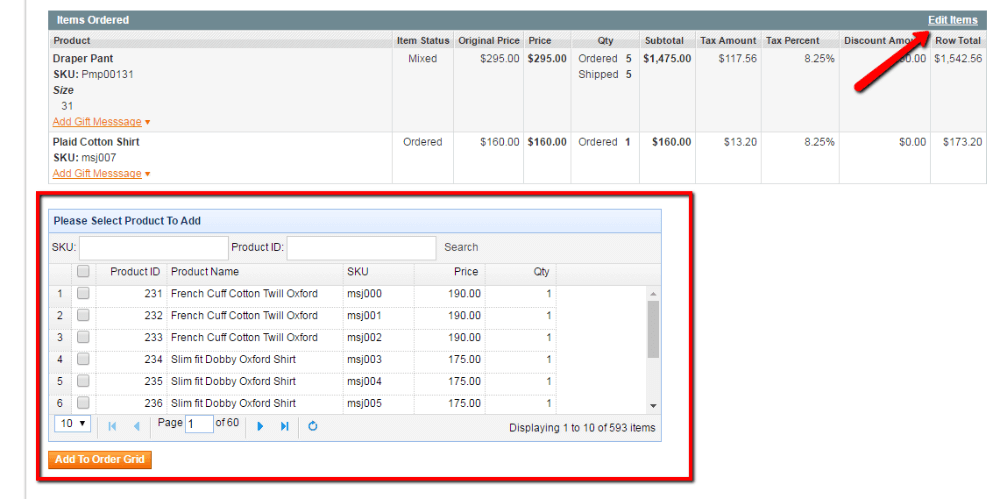 Does editing an order add extra charges?
Editing an order does not add any extra charges to the order. However recalculating shipping is an option, if this is necessary. Custom tax percentages may also be added.
To learn more about this feature check out this help article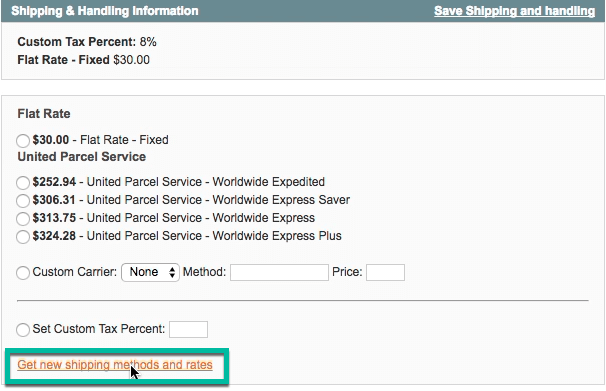 Is there any way to edit the configuration of a configurable product using this extension?
Yes. The True Edit Order extension allows you to edit the configuration of a product without having to delete it and add a new one. Change the color, size, weight and so on with ease through the detailed order view.
To learn more about this feature see this Help article.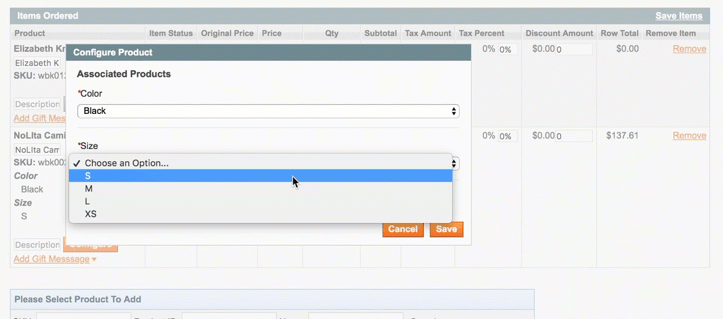 Can the tax class be changed on the checkout page?
Not with this extension. The extension will allow for the tax class to be changed after the purchase has been completed in the order view.
Any tax options provided on the checkout page can be configured by the administrator in advance in the Magento Configuration settings, but are not affected by the True Edit Order Manager extension.
Click here to find out more.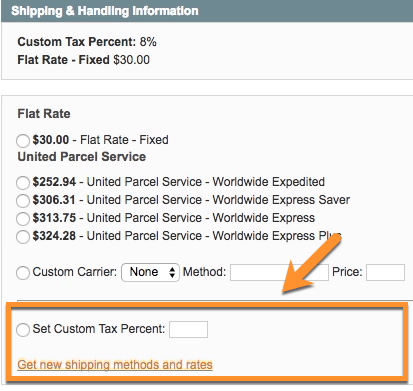 Can you edit an unlimited number of orders?
Yes, there is no limit to the number of orders that the admin can edit.
Will editing the order duplicate it?
The True Edit Orders extension will not create duplicate orders in the first place but rather will edit the order itself.
See our General Usage article to see how this looks by Clicking here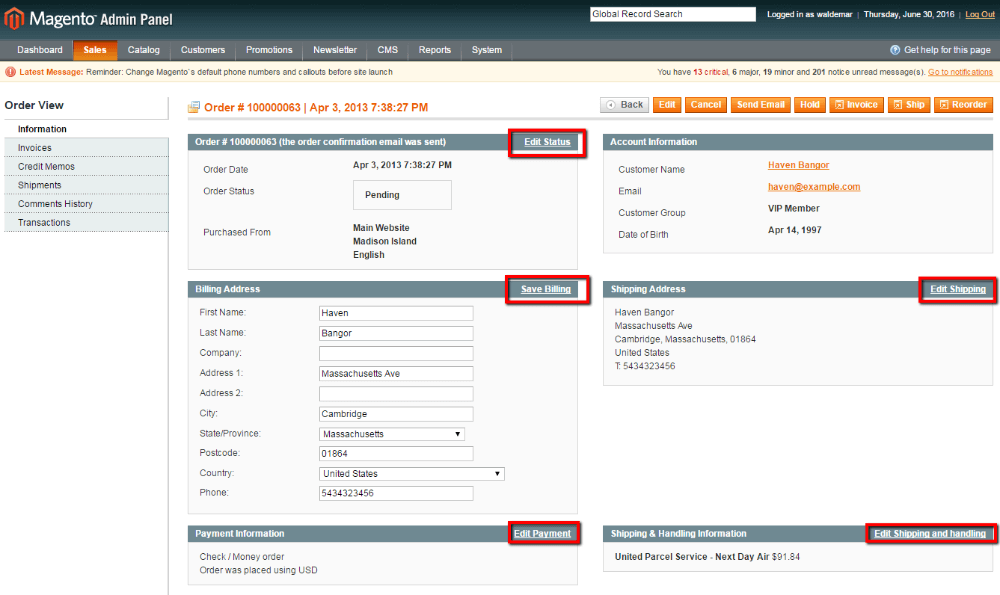 Can order notes be manually changed?
The comments history of the order can be Edited manually with the True Edits Order extension.
To learn more about editing the comments history check out this Help article

Will changing an order automatically re-authorize payment for the new order amount?
No. The True Edit Orders extension will not reauthorize payments when you add further products to the customer's cart using the extension. This has to be done manually.
We do have a separate Re-authorization extension that works with the Authorize.net reauthorization service provider. If this is the functionality you are after it might be worth reading the product page for it. Though ours does not integrate with the True Edit Orders extension.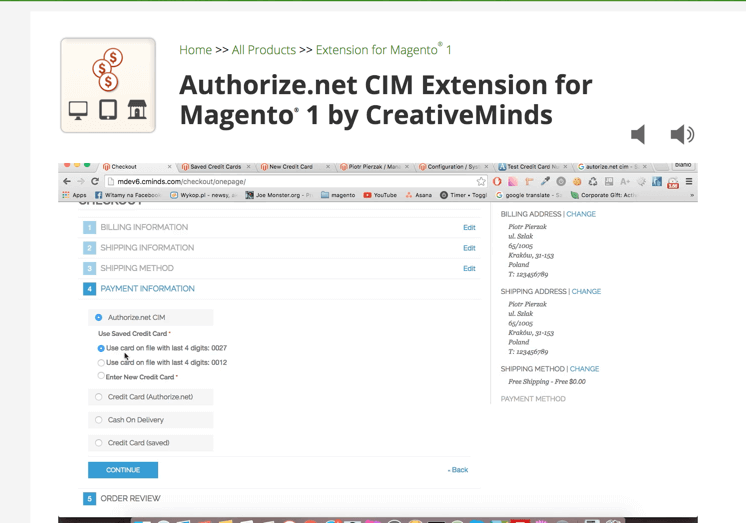 Can you change the customer account information associated with an order?
Yes. You can change the name, email or customer for every order.
Read more about modifying client information in this Help Article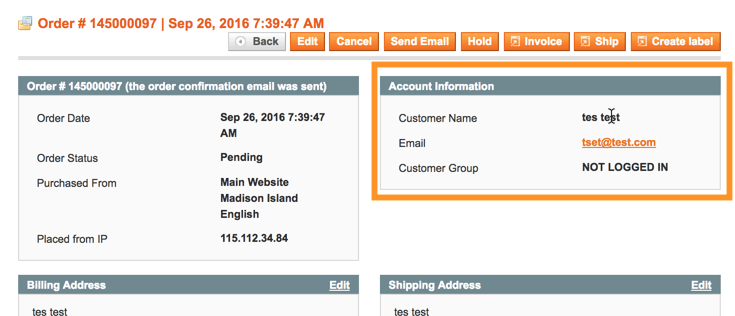 Is an order note automatically generated whenever I modify an order using the True Edit Order extension?
No. The adding of Order Notes is Magento functionality which is not touched by our True Edit Order extension
Additional Magento® Extensions by CreativeMinds
Learn more about these great extension + our installation and customization services >>
DropShipping
Streamlines communication between stores and dropshippers, allowing to track orders and shipments handled by your dropshippers.
Magento 1
Order Approval
Allows customers to forward the purchase to someone else for approval and payment
Magento 1